New Legal Framework in Refinancing and Restructuring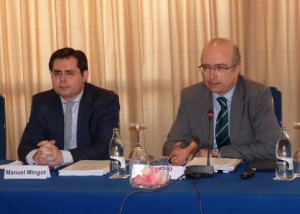 More than one hundred financial experts, representatives of banks, entrepreneurs, analysts and lawyers participated in the 4th Conference on Refinancing and Restructuring of businesses was organised by the Banking and Financial Department of BROSETA.
In the meeting, held this week in Madrid, there was a practical and detailed approach to the Royal Decree-Law 4/2014, of 7 March, which adopted urgent measures in the field of refinancing and restructuring of corporate debt.
The Royal Decree-Law 4/2014 introduces new rules and very substantial changes in the regulation of the refinancing of companies, and its ultimate goal is to facilitate agreements between debtors and financial creditors exceeding certain limits, mainly in pre-insolvency and commercial regulations.
From BROSETA, the following members of the Banking and Financial Department of the firm participated in the meeting, Antonio J. Navarro (Partner and Banking and Finance Dpt. director), Manuel Mingot (Partner), Miguel Navarro and Carlos Ochoa (associates). In addition, also attending and each delivering a speech were, Enrique Beaus, director of the Tax Department of BROSETA  in Valencia,  and the Associate Alfonso Carrillo, from the Litigation and Bankruptcy Department of BROSETA,.
To end the day a round table was held which included Roberto Leon, of N+1, Rodrigo Imaz, of Akerton Partners and Vicente Rodríguez of mainSpring, and this which was moderated by Antonio J. Navarro and Manuel Mingot.