The SOCIMI constitutes a great opportunity to boost the Real Estate market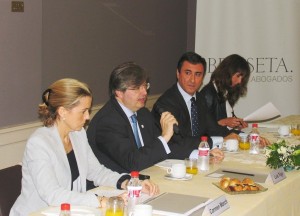 The Public Limited Investment Companies in the real estate market (SOCIMI) are a new investment vehicle that will allow us to boost the real estate sector in Spain. This is one of the main conclusions of the working breakfast organised by BROSETA and ARMABEX, in collaboration with AGUIRRE NEWMAN, held today in Valencia.
Titled 'Opportunities offered by the new SOCIMI for the real estate market of the Valencian Community', the event focused on explaining this new channel of investment, how to participate and the benefits offered to the private investor. The meeting was attended by Carmen March, partner of BROSETA commercial Department; Luis Trigo, partner and Head of the tax Department of BROSETA; Susana Rodríguez, general director of consulting for AGUIRRE NEWMAN, and Antonio Fernández, President of ARMABEX.
As noted by Carmen March, "the new Tax Measures Act 16/2012 represents the second attempt to launch the SOCIMI in Spain with a more beneficial tax regime that was involved in the first law 11/2009". It's an instrument of investment aimed at the rental market which is exempt from taxation in Company Tax, the shareholders being the ones who pay the tax.
On this point, Luis Trigo pointed out that the previous legislation was flawed, "because it wanted to regulate a reality that did not match the real scenario of Spain". For Trigo, "it's a very attractive vehicle since companies are required to distribute dividends on 80% of revenue from income and, therefore taxation moves exclusively to partners."
In addition, it's a very useful tool for investors given the current situation. Susana Rodríguez pointed out that we live in "a great moment for channelling savings since there is no funding due to the financial crisis". "The demand for housing and commercial premises still exists, and what is needed now is the creation of professional wealth from rentals."