BROSETA strengthens the Commercial Law Department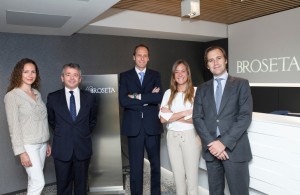 The Commercial Law Department of BROSETA, led by the Partner of the firm, Julio Veloso, has recruited a team of three lawyers specialising in Intellectual Property (IP), Information Technology (IT) and Life Sciences (Life Sciences), and another two professionals that will reinforce the practice of Mergers and Acquisitions (M & A) of the firm.
With these additions, BROSETA complements and strengthens its Commercial Department, aiming to consolidate its national position, strengthen the international profile of the organisation and strengthen its objective of providing its customers advice adapted to their demands and needs.
IP-IT and Life Sciences
Advisory services in the fields of Intellectual Property (IP), Information Technology (IT) and Life Sciences (Life Sciences) of BROSETA have been reinforced with the addition of a team of lawyers namely Miguel Geijo, who joins as a Partner of this practice, Carolina Vivó and Alicia Coloma.
Miguel Geijo has 20 years of experience in the profession, and specialises in the Law of Information Technology, Biotechnology and Pharmaceutical Law and Data Protection, among other areas. Prior to BROSETA he developed his career in offices like Garrigues and Rousaud Costas Durán, where he worked as Partner and Head of the Information Technology and Data Protection Department.
Carolina Vivó and Alicia Coloma, specialise in advising national and multinational companies in the field of Data Protection, Electronic Commerce and Consumer Protection and Intellectual Property and New Technologies, and will join the firm as Associate Lawyers. Both have experience in top law firms and legal departments of companies like Samsung Electronics Iberia and Bankinter.
Mergers & Acquisitions
Along with them, the Mergers and Acquisitions Department of the firm welcomes Pablo Bieger and Joaquín Giráldez, as Partner and Senior Lawyer respectively, to strengthen the practice of Mergers and Acquisitions (M & A).
Pablo Bieger, who will join on Sept. 1st, is a lawyer on sabbatical from the Bank of Spain and has extensive international experience in corporate operations, having developed his professional career in institutions such as Citibank, where he headed the Legal Department, and as a Partner at Garrigues and Clifford Chance.
For his part, Joaquín Giráldez has more than 20 years of experience in multinational corporate environments, and specialises in advising in the field of "Leisure & Hospitality", cross-border operations, financing of projects or regulatory compliance, among other subjects.
For Julio Veloso, Partner of BROSETA and Head of Commercial Law, "these additions in two areas that we consider to be of enormous relevance for the future, correspond with an ambitious plan of development of our Commercial practice. The experience and the professional talent of lawyers who join us will consolidate the capabilities of the firm in the international arena, as well as the generation of new services that respond to the needs of our clients in a flexible way and with the optimal level of quality to which we are committed".
With these additions, BROSETA already has 18 Partners, 8 of them in the Commercial Law Department, leading a team of 100 lawyers who provide legal services in all the key areas of Business Law.
International Dimension
Together with the headquarters of the firm in Valencia and Madrid, BROSETA is one of the pioneering Spanish firms in the internationalisation of legal advisory services. Thus, it already has offices in the cities of Zurich (Switzerland) and Santiago (Chile), and is also present in Latin America through the Legal Ibero-American network (Colombia, Ecuador, Mexico, Paraguay and Peru), founded and led by BROSETA.