BROSETA participates in the Biolatam Latin American biotechnology meeting
BROSETA participated in Biolatam 2013, a meeting for biotechnology companies in Latin America, which took place on the 9th and 10th of December in Bogota (Colombia).
At the event representing BROSETA, were Manuel Broseta, Julio Veloso and Patricio Gil.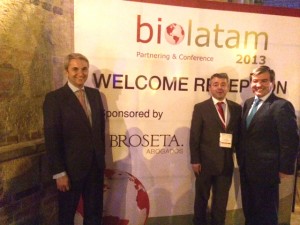 BIOLATAM 2013 was created in order to position itself as a leading event in the Latin American region to promote the development of business between biotech companies, as well as the sector's users (pharmaceutical, medical devices, food, veterinary, energy, and others) around the world, with particular interests in the Latin American region.
Biolatam, organised by Asebio, had about 500 attendees, 250 companies in partnering and close to 30 countries were represented.