BROSETA improves its advisory services with the opening of an office in Portugal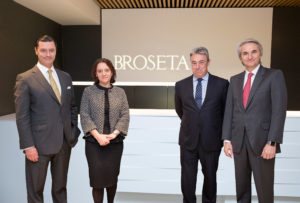 Within the framework of the Strategic Plan 2020 that is being carried out by BROSETA, and which aims to consolidate the organisation among the leading legal firms, and supported for this in the professional development of its talent and growth through business opportunities of interest, the Firm has taken another step in its internationalisation strategy with the opening of an office in Lisbon.
The opening of BROSETA in Portugal has been carried out through the union with the local law firm Roquette, Morais e Guerra, and responds to the growing interest of Spanish and Latin American companies to carry out activities in a country that is immersed in a ambitious growth process and that has notable prospects in areas such as external financing, boosting exports, business investment and job creation.
The BROSETA office in Lisbon will have a dozen professionals from the law firm of Roquette, Morais e Guerra, with the prospect of reaching twenty lawyers by the end of the year, and will be headed by Álvaro Roquette, the new partner of the Firm and by Pablo Bieger, partner of BROSETA.
The BROSETA team will provide multidisciplinary advice in Portuguese law to local, Spanish and multinational companies, focusing services in the first phase on banking, real estate, telecommunications, data protection and cybersecurity.
For Manuel Broseta, president of BROSETA, "our presence in Portugal is a milestone of relevance for the organisation and is the result of an exhaustive process of valuing opportunities in this country. The team of Roquette, Morais e Guerra that joins this project has a deep knowledge of the local business fabric and its needs, which together with our expertise and our portfolio of clients with interests in the region make us start this new stage with energy, enthusiasm and optimism ".
Álvaro Roquette, for his part, considers Portugal as "the natural extension for BROSETA in its strategy of internationalisation, both because of the synergies of the Portuguese business fabric with the Spanish, as well as because of the common links with Latin America and the extraordinary perspectives of the country. In this context, our objective will be to accompany Spanish companies with interests in Portugal, an increasing number, and Portuguese companies, both in their local needs and in their growth abroad. "
International vocation
The office of BROSETA in Lisbon is the second physical headquarters of the Firm outside of Spain, together with the presence of the organisation in Zurich, Switzerland, since 2013. The clear international vocation of the Firm is completed by the leadership of BROSETA in the Iberoamerican Legal Network, an alliance of legal firms in Latin America that has a presence in 13 countries and serves the entire continent through more than 400 lawyers.