BROSETA brings together members of the Latin American Alliance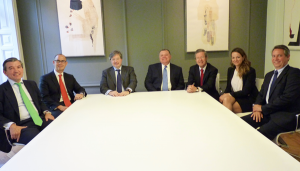 The law firms that make up the International Alliance in Latin America promoted by BROSETA, met this week in Madrid to take the next step in the development and consolidation of this international group which has representatives in Colombia, Ecuador, Spain, Mexico, Paraguay and Peru.
The meeting, held at the Madrid headquarters of BROSETA, was attended by, among others, the managing Partner of BROSETA, Luis Trigo; the managing Partner of the Colombian firm Esguerra Barrera Arriaga, Juan Carlos Esguerra; the managing Partner of the Mexican firm Cervantes Sainz, Alejandro Sáinz; the managing partner of Berkemeyer, Paraguay, Hugo Berkemeyer; and a partner of the Peruvian firm Benites Fornos & Ugaz, Alberto Zarak.
The objective of this Alliance is to put at the disposal of the clients of the firms "a network of skilled and recognized lawyers in all Latin American countries that ensure comprehensive legal coverage". In addition, law firms that make up the alliance "will encourage the identification and generation of business opportunities in the region for its clients in a proactive manner, taking advantage of the synergies resulting from collaboration between them".
On the other hand, members of the Alliance of Ibero-American offices undertake in addition to 'share experiences and good practices under common values in order to promote internationalization and the activity of all the Member firms'. Among other initiatives, they will jointly organize conferences, seminars, training courses and commercial actions, as well as exchanges of lawyers among the different offices to strengthen ties and improve the knowledge of its members.