BROSETA, award for the European Banking and Finance team of the year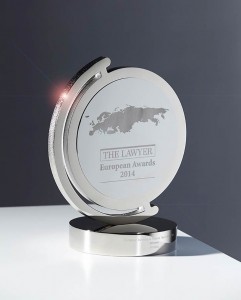 BROSETA has been awarded the prize for the European Banking and Finance team of the year granted by the prestigious international publication The Lawyer, at the gala of "European Business Awards: The Lawyer 2014" which took place yesterday in London.
The director of the banking and finance team at BROSETA, Antonio J. Navarro, picked up this award in a ceremony attended by the most important law firms in Europe.
The group of professionals that make up the team that Antonio J. Navarro leads, and in which the Partner Manuel Mingot has also been an outstanding protagonist in the industry in recent years, have been recognised internationally by the legal sector and that is now crystallised in this international recognition.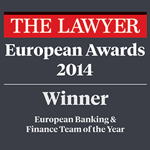 The jury of the "The Lawyer European Awards 2014" underlined "innovation displayed the team" and the "high quality of the firm", in its justification of the award and that BROSETA is established as a reference in Europe for its quality of advice in these matters.
BROSETA took this award and was up against two other firms (Gómez Acebo Pombo and the international law firm Ashurst) who were also finalists and who had been nominated among numerous firms across Europe.
The members of the jury stressed "the excellent solutions in difficult times and the outstanding innovation" demonstrated by the nominated firms and also highlighted their "design for future vision and strategy".
BROSETA had already been nominated by 'The Lawyer' as an European Awards Finalist in the category of "niche" firm of the year in Europe in the 2011 Edition for its work specialising in the Area of Venture Capital.