Manuel Broseta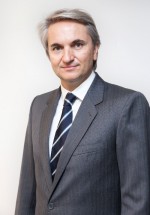 Senior Partner
+34 91 432 31 44
+34 91 432 32 55
Madrid Valencia Zurich
Degree in law from the University of Valencia. Extraordinary Degree Award. Master's degree in European law from the College of Europe in Bruges (Belgium) (Scholarship grated by the Spanish Ministry of Foreign Affairs) . Took various postgraduate courses, including Georgetown University (United States), King's College (London) and Harvard (United States), as well as PhD courses at the Universidad Central of Barcelona and Complutense of Madrid. Associate Lecturer of Commercial law at the University of Valencia from 1996 to 2000.
He began his professional career in Uría Menéndez from 1992 to 1994. After this period he returned to BROSETA Abogados, where he led a re-foundation of the firm and increased its staff of 5 people up to about 200 people who currently make up the group. He has been primarily responsible for this growth, as well as the consolidation of the firm as one of the leading law firms in Spain.
President of Conexus Foundation. Member of the National Executive Board of APD (Association for the Progress of Management); the Advisory Boards of Suez and Stadler Rail; the Advisory Board for research, development and innovation of CEV (Valencian Business Confederation); AVE (Association of Valencian Businessmen); and the French Chamber of Commerce.
Advisory counsel and Secretary or Deputy Secretary to several large companies, and member of the Civil and Commercial Arbitration Court (CIMA), the Spanish Arbitration Club and the Arbitration Court of Valencia.
Award for the best lawyer "40 under 40", awarded by the 'Iberian Lawyer' magazine in its first issue (2007). Selected as leading lawyer in Corporate and M&A in the publication 'Best Lawyers' since 2009 to date. Leadership Award in Professional Services granted by the publication 'Economia 3' in its 2009 Edition.
Languages
English, French
Languages
Valencian English French