The Iberoamerican Legal Network (ILN) is comprised of a group of prestigious law firms in the region, located in Chile, Colombia, Costa Rica, Dominican Republic, Ecuador, El Salvador, Guatemala, Honduras, Mexico, Nicaragua, Panama, Paraguay, Perú and Spain. The purpose of the ILN is to provide a uniform and high-quality service to all those organizations, companies and other entities with interests in the region.
Trade between Ibero-American countries is growing steadily, as well as the business established by a corporate group in several of these countries. Those involved in this, more and more often demand legal professionals with the ability to provide a comprehensive overview of the legal issues that arise during the consultation, formalization or realization of such businesses, from the perspective of the legal systems of all relevant countries, and also with knowledge and experience in the markets and sectors in which clients and their companies operate, as well as top level contacts in associations, regulatory, administrative authorities and government of the countries that are part of the ILN.
The group of lawyers who make up the Network has a deep knowledge and a remarkable qualification regarding to legal coverage of business which, increasingly, is being made between Ibero-American countries.
Furthermore, the ILN members are in permanent contact with the aim to update and share, in a coordinated manner, knowledge, experiences and practices of each of its components across jurisdictions. Thus, the ILN makes this knowledge available to its clients and provides, agile, efficient and optimum quality standards way, comprehensive legal services to companies with presence in any of the countries represented by the Network.
More than 250 lawyers who make up the team of the ILN are committed to the establishment of new ways of collaboration between Europe and Latin America, that will facilitate the identification and generation of business opportunities for customers taking advantage of the synergies resulting from collaboration between them.
Download the information brochure of the RLI through this link.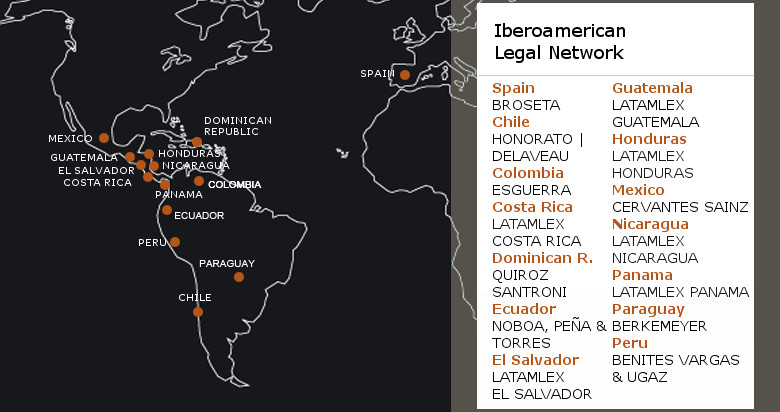 Offices in the Iberoamerican Legal Network
Spain

Goya, 29, Madrid
Pascual y Genís 5. Valencia
Schützengasse, 4. Zúrich
Tel: +34 91 432 31 44
Fax: +34 91 432 32 55
Contacts: Julio Veloso | jveloso@broseta.com
Catalina de Pablos | cdepablos@broseta.com
Mail: info@broseta.com; Web: www.broseta.com

Chile

Roger de Flor 2736, Floor 6. Las Condes
Santiago de Chile. Chile
Tel: +56 2 2405 3200
Contact: Gonzalo Delaveau
Mail: gdelaveau@hdycia.cl
Web: www.hdycia.cl

Colombia

Calle 72 No. 6-30, floor 12
Bogotá. Colombia
Tel: +57 1 3122900
Fax: +57 1 3104715
Contact: Juan Carlos Esguerra
Mail: jcesguerra@esguerra.com
Web: www.esguerra.com

Costa Rica


Avenida Escazú, Torre AE2, 5º
San José, Costa Rica
Tel: +506 2208 3636
Fax: +506 2208 3649
Contact: Adriana Ramos
Mail: aramos@latamlex.com
Web: http://latamlex.com/Oficinas/costarica

Dominican Republic


Av. 27 de Febrero, 495. Forum Tower. Suite 5B
Santo Domingo, Dominican Republic
Telf.: +1 809 338 4200
Contact: Romina Santroni | romina@laleyenverde.com
Web: laleyenverde.com

Ecuador

Av. República de El Salvador N36-230 y Av. Naciones Unidas, Citibank building, Floor 2
Quito, Ecuador
Tel: +59 32 2970193
Contact: Gonzalo Noboa
Mail: gnoboab@legalecuador.com
Web: www.legalecuador.com

El Salvador


Pasaje Senda Florida Norte No. 124, Colonia Escalón
San Salvador, El Salvador
Tel: +503 2525 7800
Contact: Carlos Quintanilla Schmidt
Mail: cquintanilla@latamlex.com
Web: http://latamlex.com/Oficinas/elsalvador

Guatemala

13 Calle 2-60 Zona 10, Edif. Topacio Azul. Of. 70
Guatemala City, Guatemala
Tel: +502 2386 9300
Fax: +502 2386 9394
Contact: Alfredo Skinner-Klée| skinner-klee@arenales.com.gt
Web: www.arenales.com.gt

Honduras


Colonia El Castaño, Calle Cedro Real #202
Tegucigalpa, Honduras
Tel: +504 2231 0324
Contact: Dennis Matamoros Batson
Mail: dmatamoros@latamlex.com
Web: http://latamlex.com/Oficinas/honduras

Mexico

Bulevard M. Avila Camacho 24, floor 6
Lomas de Cahpultepec 11000
México DF, México
Tel: +52 55 9178 5040
Fax: +52 55 5540 3433
Contact: Alejandro Sainz
Mail: asainz@cervantessainz.com
Web: www.cervantessainz.com

Nicaragua


Planes de Altamira III Etapa
Managua, Nicaragua
Tel: +505 2277 0767
Contact: Álvaro Caldera Portocarrero
Mail: acalderap@latamlex.com
Web: http://latamlex.com/Oficinas/nicaragua

Panama


San Francisco, 74E St.
Midtown Building SF74
Floor 17, Office 1705
Panama City, Panama
Tel: +507 215 3215
Contacts: Elizabeth Heurtematte| eheurtematte@latamlex.com
Isabel Cristina López| clopez@latamlex.com
Web: http://latamlex.com/Oficinas/panama

Paraguay

Jacaranda Building, floor 4
Benjamín Constant 835
Asunción, Paraguay
Tel: +59 5 21 446 706
Fax: +59 5 21 497 085
Contact: Hugo Berkemeyer
Mail: hugo.tberkemeyer@berke.com.py
Web: www.berke.com.py

Peru

Av. 28 de Julio 1044
Lima, Peru
Tel.: +51 1 615 9090
Fax: +51 1 615 9091
Contact: Héctor Gadea| hgadea@bvu.pe
Web: www.bvu.pe