Vicente Roldán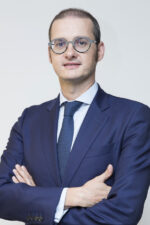 Partner. Litigation Law Department of BROSETA
+34 91 432 31 44
+34 91 432 32 55
Madrid
Degree in Law from the University of Castilla la Mancha; Doctorate in Law and Economics from the University of San Pablo CEU.
More than 15 years of experience advising organisations in the areas of Litigation Law, Bankruptcy and Arbitration, in sectors such as Real Estate, Hotel and Digital Economy. He has developed his professional career in law firms such as GAP, Sigma Abogados, of which he was a founding partner, and ÉCIJA, where he exercised partner responsibilities for the areas of Insolvency and Restructuring, Real Estate, Dispute Resolution and Litigation.
Arbitrator of the Corporate Arbitration Committee, member of the Expert Committees of the European Arbitration Association and the Chartered Institute of Arbitrators, Vicente is also a Professor at the Francisco de Vitoria University and holds the title of "Arbitrator".
Expert in Compliance from this institution, and Expert in Insolvency Law from the Instituto de Estudios de la Empresa and the Universidad Católica de Valencia San Vicente Mártir.
Languages
Spanish English