Rosa Vidal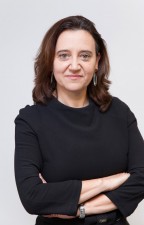 Managing Partner and Head of the Public Law Department
+34 91 432 31 44
+34 91 432 32 55
Madrid
State Lawyer 1997. Graduate in law from the University of Valencia. She has studied Business Administration at the Universidad San Pablo CEU.
She has been the Secretariat of the Council of Administration of the Port Authority of Castellón and substitute Secretariat of the Regional Administrative Economic Court of Valencia, a Member of the Provincial Jury of Compulsory Expropriation of Soria and Castellón, Deputy Director of the Regional Legal Service of the State Agency of Tax Administration in Valencia and President of the Board of Directors and Director General of RTVV, among others.
Author of various publications. Lecturer of Administrative Law at the Universidad San Pablo CEU and at ISDE Business School.
Rosa leads the Public Law Departament of BROSETA and she is Managing Partner of the Firm.
Languages
Valencian English