José Adroher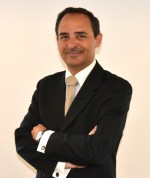 MANAGER
+ 34 91 432 31 44
+34 91 432 32 55
Madrid
Degree in Economic and Business Sciences from the Autonomous University of Madrid (1992-1997). Compliance Officer's diploma from the Complutense University of Madrid (2016). External expert certified in Prevention of Money Laundering and Financing of Terrorism (Inblac, 2015) and expert in financial research and recovery of assets (Universidad de Granada, 2014).
More than 17 years of experience in different sectors in cross-cutting work on Fraud, Risk, Credit management, Bad Debt, Credit Scoring, Revenue Assurance, etc.
Specializing in leading and building functions of the Second line of Defence to preserve and increase the value of organisations (revenue, brand and reputation)  against threats from unknown loss, fraud, legal risk, compliance, operational, etc.
Prior to BROSETA he developed his professional career in organisations such as Vodafone, as Manager of Revenue Assurance; Ono, Manager of Fraud, Revenue Assurance and Credit Scoring, as well as the Spanish Business Confederation of glass and ceramics, as Technical Secretary, and the National Entrepreneurs Association of Trade and Flat Glass manufacturing, as Secretary General, among others.
Languages
Spanish English