David López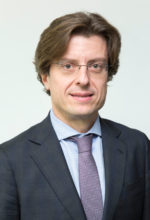 Partner. Employment Law Department
+34 91 432 31 44
+34 91 432 32 55
Madrid
Law degree from the Complutense University of Madrid. He has postgraduate training in Human Resources and Employment Relations and Commercial Law (IFE, Chamber of Commerce of Madrid).
Partner of the Employment Law department of BROSETA since January 2018, he has previously worked as a Partner of the firm Copa & Asociados Abogados, which has been integrated into BROSETA.
Lawyer with extensive experience in negotiation of collective agreements in the business field, collective processes of restructuring of staff and modification of working conditions, full advice on Employment Law matters to companies in various economic sectors (industrial, engineering, commerce, hotel trade, construction, services, telecommunications) and legal defence in contentious proceedings before Courts, the Superior Court of Justice, the National Court, the Supreme Court and the European Union Court of Justice.
He has actively participated as a teacher in matters of interest in the Employment field, such as the Employment Market Reform.
Languages
Spanish English French