Conference on Tax Credits on the Pre-Bankruptcy and Bankruptcy Processes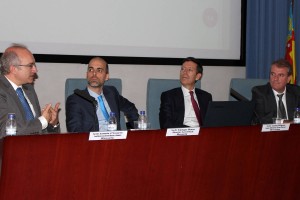 On February the 3rd the tax Department of BROSETA lawyers held, in the main hall of the Valencia Stock Exchange, a conference about the treatment of the tax credit at companies in crisis (pre-bankruptcy or bankruptcy).
The conference included the contribution of Jaime Sanz, State Tax Inspector and Head of the Regional Office for Payments, as well as the Departments of Tax and Finance of BROSETA lawyers as represented by Carlos Dieguez (Partner and Head of the Tax department), Enrique Beaus (Head of the tax department in Valencia) and Antonio J. Navarro (Partner, Head of the Banking and Finance Department).
Enrique Beaus, during his speech, showed the difficulties that, in practice, involve the imperative tax rule relating to the unavailability of the tax credit which, in his words, "constitutes a major obstacle when it comes to integrating the tax debts in the process of refinancing of companies in crisis." In this sense, he analysed the tax costs of refinancing of tax and stamp duty to finally conclude that, some practices in terms of postponements or taking of low range guarantees, represent a process of refinancing that can only be solved by trying to negotiate with the tax administration.
In line with this speech, Jaime Sanz took the floor and analysed possible scenarios of a firm in difficulty (aside from the bankruptcy, declared pre-bankruptcy situation (5BIS) or post bankruptcy), as well as the alternatives of negotiating with Treasury in each of those scenarios. He also spoke of the possibility of reaching general or unique agreements with the tax administration where the company is bankrupt.
Finally, during the holding of the round table, which generated an interesting debate between speakers and attendees, Antonio J. Navarro stated, from the point of view of refinancing companies and organizations, what were the aspects that we miss from the tax administration in the process of debt renegotiation. In particular, he noted that the possibility of reaching a singular agreement would have been a much more useful tool for companies in pre-bankruptcy situations or on the verge of bankruptcy, than for companies that are already in a declared bankruptcy process.